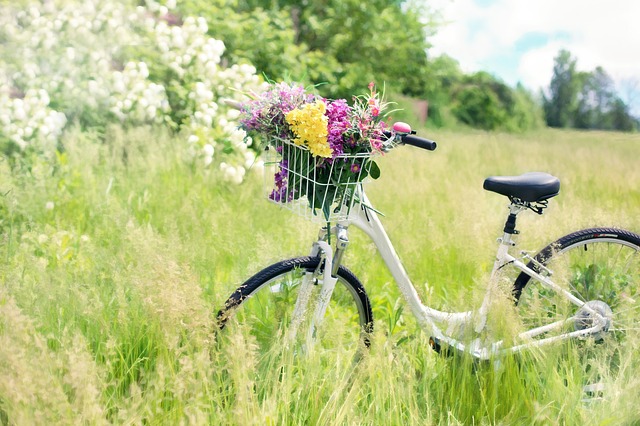 You may know by now that I am NOT a fan of winter. But did you know that Spring is my favorite season? Oh, yes! Not only is it warmer and greener, but the food is fresher and more delicious in the Spring. Here are some great ways to celebrate what Spring has to offer!
1. Snap Peas. When I think of Spring and all that it has to offer, the first food that comes to mind is Snap Peas. I love their bright, crisp flavor and their remarkable versatility. Versatility, you say? You bet! Throw them raw on a salad, stir fry them with a bit of soy sauce and garlic, steam them with a tiny bit of butter and pepper, serve them raw with hummus. I'm talking about the peas still in the pod, of course, but when shelling peas come in season try this gorgeous spring pea hummus!
2. Strawberries. In my part of the world, we're still about 6 weeks away from Strawberry season. Strawberries are grown locally here in Kansas, and they are glorious—beautiful, sweet, intensely flavored. If you've never picked your own strawberries, I urge you to do so. For a few minutes of light labor you'll get a treat that makes those boxed things at the supermarket taste like Styrofoam. What to do with them? Eat them right out of hand, throw a few on vanilla ice cream or Greek yogurt, bake them into muffins or scones. You can even freeze them to enjoy later, when this amazing month is over.
3. Asparagus. My sweet grandmother loved to serve asparagus with family dinners, but hers came from a can. Ugh. It was only as an adult that I learned how fantastic fresh asparagus can be. My favorite way to eat asparagus is to toss it with a bit of olive oil and balsamic vinegar, and then toss it on the grill with whatever's for dinner. It's also lovely lightly steamed with very little seasoning. As a snack, you can dip it into hummus (maybe the pea hummus from above?). And if you want it to be the star of your dinner, try this asparagus and pea risotto. If possible, replace the frozen peas with fresh, and you'll have a symphony of flavors!
4. Spring Greens. Probably the first produce you'll find available in Spring are various kinds of greens—leaf lettuce, spinach, arugula, and more. After a long, grey Winter, is there anything more delicious than a salad made from just-grown baby greens? So tender and flavorful, they'll make having a salad a real treat! And these babies give you a chance to pull all of your favorite spring flavors together. Just think how wonderful your salad will be with spring peas, flash steamed asparagus, quartered strawberries, and just a bit of goat cheese? Throw on some almonds or chicken for additional protein and you've got lunch!
5. Eggs. OK, so eggs are a bit of departure here. But if you love local eggs (and if you haven't tried local eggs, you should), the hens start laying in earnest in the spring. Hard boil some and add them to your spring green salad. Enjoy a scramble with asparagus and a side of strawberries. It's hard to find an easier way to enjoy a light meal than with eggs.
6. Farmers Market. Friends, if you haven't found your local Farmers Market, I implore you to do so. These are your hard-working neighbors, bringing you local produce that was in the ground 24 hours ago. When you buy from a local farmer, you are supporting the economy and the land in manifold ways. Plus, you will be eating the freshest fruits and vegetables you have ever had—short of growing your own. Want to know what's in season in your area? Go to Farmers Market and buy it, right from the people who make it all possible.
Enjoy Spring, my friends!
Becky Eason, PhD, is an Associate Certified Coach and Certified Leadership Coach. She would love to come with you on your journey for wellness and a happy heart. Learn more on her website: wequestforwellness.com